RRB NTPC Exam Date, RRC Group D Exam Date 2020: Railway Recruitment Board (RRB) on Tuesday announced NTPC (Non-Technical Popular Category) and Group D (Level-1) Recruitment Examination. Railway Board Chairman and Chief Executive Officer (CEO) Vinod Kumar Yadav said through video conferencing that the examinations for more than 35000 NTPC posts will start from December 28 and will be completed by the end of March. He informed that for the recruitment of more than 1.03 lakh posts of Group D (Level-1), examinations will be conducted between April 15, 2021 to June 2021. There were 2 crore 44 lakh applications for a total of 1,40,640 posts.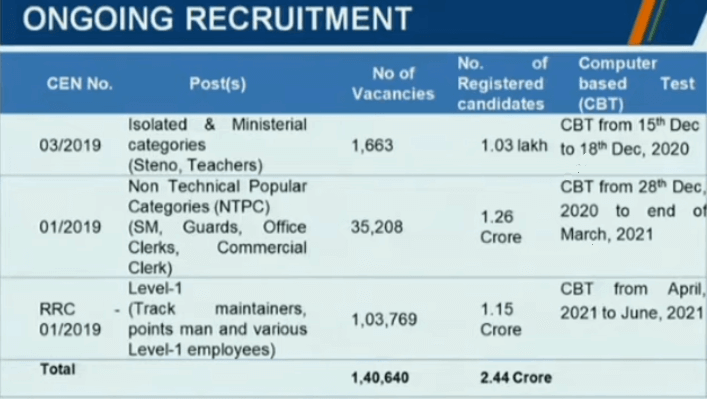 The RRB chairman said that CBT (Computer Based Test) will be conducted from December 15 to 18 for 1663 posts of steno and teachers (ministerial and isolate category). According to the news of the news agency talks, Vinod Kumar Yadav said that the recruitment process for the railway staff has been completed and they will be appointed in due course and their training will also be completed by August 2021.
RRB NTPC Selection Process:
- There will be CBT (CBT 1 and CBT 2) in 2 phases for all the posts followed by skill test.
- Skill Test for Station Master, Traffic Assistant posts will be computer based aptitude test.
- There will be typing skill test for junior clerk cum typist, junior time keeper, accounts clerk cum typist, senior clerk cum typist, junior accounts cum typist, senior type keeper.
- Will be able to enter CBT 2 only, which will pass in CBT 1. Candidates with 20 times the total vacancy will be given admission in CBT 2. The skill test will be of the same candidate who will pass in CBT 2. 8 times the total vacancy will be called for the skill test.
After all, there will be document verification (DV) and medical test. Document verification (DV) and medical test will be the final stages of the selection process.
Final selection - Merit will be based on the steps given above.
RRB NTPC exam pattern
- The CBT of the first phase will be of 90 minutes. There will be 100 questions. There will be 40 questions from General Awareness, 30 from Maths and Reasoning.
- The second stage CBT exam will be of total 120 marks. It has 50 marks for General Awareness, 35 for Mathematics and 35 marks for General Intelligence and Reasoning.
- A total time of 90-90 minutes has been prescribed for both the stages of examination. The maximum limit for disabled candidates will be 120 minutes.
- Multiple choice questions will be asked in the exam and during this period negative marking system will be implemented.
Appointment will be given to all the candidates selected in the Railway Recruitment Examination: RRB Chairman Vinod Kumar Yadav
- There will be typing skill test of the candidates applying for the posts of Clerk, Account Assistant, Typist.
- Shortlisted candidates who pass the Computer Best Examination will be called for certificate verification.
- Candidates have to meet the prescribed medical standard as per the posts.
Both CBT exams will have negative marking. One third mark will be deducted for each wrong answer.